Southern States Show and Sale, Cookeville, TN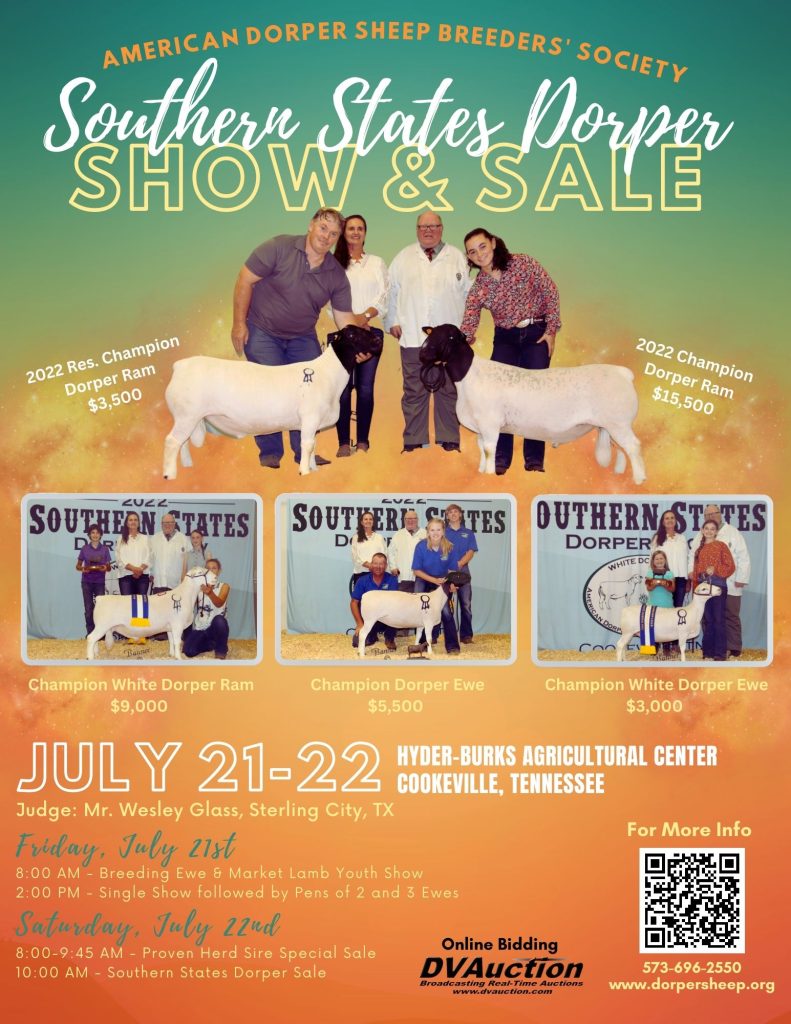 Entry Information
Entry fees are $20 for Singles, $30 for Pair of Ewes and $40 for Pens of Three Ewes and must be paid at time of entry. Late entry fees will be $100 for singles, $150 for pairs and $200 for pens of three and will not be included in the Southern States Sale Catalog. Entry fees are non-refundable including animals sifted and/or scratched.
To Enter
Online: Visit www.Showman.app to access the Online Entry System. The system will be opened for entries by mid-May 2023.
Hard Copy: Mail the attached form and payment to the National ADSBS Office. Emailed entries will not be accepted.
ADSBS
Attn: Southern States Sale Entries
P.O. Box 259, Hallsville, MO 65255
Entry Deadlines
• Mailed-in entries must be postmarked by June 23rd
• Online entries will close July 1st
• Late entries only accepted online July 2nd - July 15th
Hotel Information
Hampton Inn Cookeville
1025 Interstate Dr, Cookeville, TN 38501
Phone: (931) 651-1500
Rate: $124/night + taxes
Book Online: https://tinyurl.com/SouthernStatesHotel
Book before June 18th to get the rate
Schedule
Thursday, July 20th

• 12 pm to 5 pm: Sheep Check-in

• 1 pm: FAMACHA Certification

• 1 pm to 4:30 pm: Paint Branding Station Open

• 5:30 pm: Consignors Meeting

• 7:00 pm: Consignor's Dinner

Friday, July 21st - Judge: Mr. Wesley Glass, Sterling City, TX

• 8:00 am: Youth Show

• 2:00 pm: Single Show followed by Pens of Two and then Pen of Three

Saturday, July 22nd

8:00 – 9:45 am: Proven Herd Sire Special Sale
10:00 am: Southern States Sale
New for 2023 - Proven Herd Sire Special Sale
Consignors may sell one (1) ram born before 8/31/21 under the following special rules.
Entry fee is $20.
Rams must be of sound breeding condition free of lumps and/or deformities of the testicles with a Breeding Soundness Exam (BSE) conducted by a veterinarian within 30 days of the sale. The BSE documents must be submitted with a valid health certificate at time of check-in.
Rams must have at least one (1) offspring consigned in the Southern States Show & Sale,
All rules and regulations of the Southern States Show & Sale apply to rams consigned in the Special Sale with the exception of the requirement to be slick-shorn.
Special Sale Procedure:

Rams will be sold by silent auction on Saturday, July 22nd from 8 am to 9:45 am.
To place a bid on a ram, a bidder sheet will be on each ram's pen and the bidder will record their buyer's number and the amount of the bid.
If at 9:45 am when the auction closes there are two bidders still actively bidding on a ram the sale manager will live bid between the two bidders until bidding ceases and one bidder is the winner.