Dorpers Into the New Century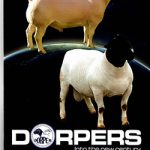 by Dolf Lategan
IN STOCK! and you have a choice of English or Spanish Version
"Dorpers into the New Century" includes extensive descriptions of the specific attributes of the breed. It is a training manual and includes wonderful photographs that clarify both good and bad characteristics as well as related articles on nutrition, health and flock management.
The book cost is $43.00 (including shipping). English version: Click here
Spanish version: Click here
or mail your $43.00 check to: ADSBS, PO Box 259, Hallsville, MO 65255.  Please write "Dorpers Into the New Century" book in the memo.